The Future of Healthcare: Telehealth. Here's Why You Need to Consider Telemedicine in 2019
Telehealth and Telemedicine Definition
We often hear telehealth and telemedicine used interchangeably, so let's set the record straight – telehealth is the umbrella term that refers to medical services that healthcare practitioners provide to patients from a distance. Nurses, physicians, counselors or dentists can all provide telehealth services. Telemedicine, however, is more specific and refers to the use of electronic services allowing doctors to communicate with other doctors and give consultations to patients without an office visit.

According to National Coordinator for Health information Technology, telehealth applications include:
Live video conferencing
Store-and-forward video conferencing — to transmit a recorded health history to a health practitioner
Remote patient monitoring (RPM) — to record personal health and medical data in one location for review by a provider in another location
Mobile health (mHealth) — health care and public health information provided through mobile devices, often including general educational information, targeted texts and notifications about disease outbreaks.
The benefits of telehealth continues to grow, according to the WHO. Patients who are chronically ill or who are unable to commute to office appointments can still receive guidance on their conditions and procedures while remaining at home.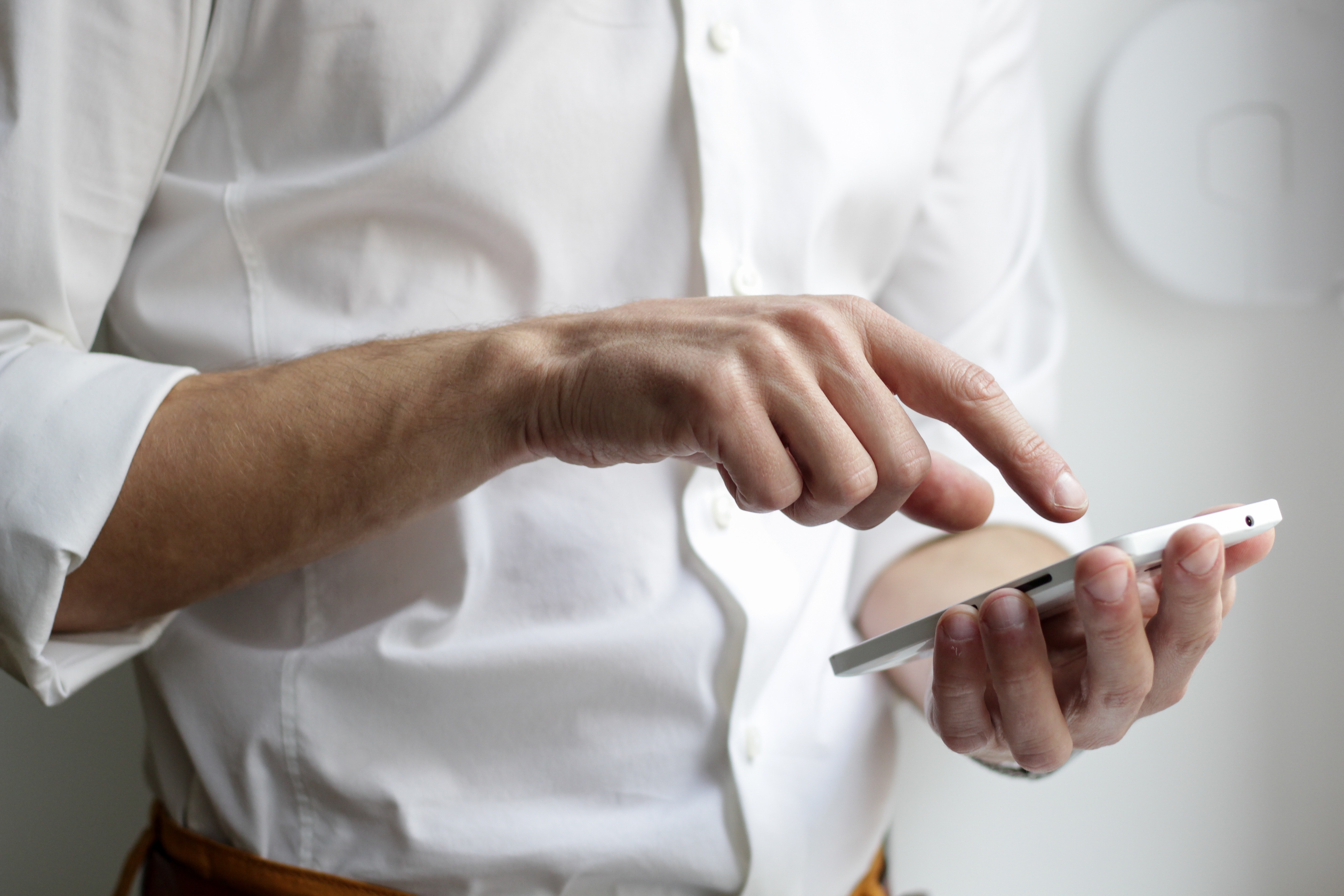 Telehealth in 2019
In a society whose functionality depends on technology, it's easy to assume that most people prefer virtual options in place of in-person. In fact, a 2017 survey found that two-thirds of healthcare consumers would prefer seeing a doctor via virtual visits. That percentage will only continue to rise as additional telehealth options become more accessible in healthcare facilities across the country.

The biggest change is evident in rural communities, where access to health services is often severely incompetent. With telemedicine, patients are able to seek services from providers in larger communities without having to coordinate travel plans or using the distance as a valid excuse to not seek treatment or care. The reality of having virtual services available from specialities like psychiatry, dermatology, primary care, plastic surgery would mean more accessible healthcare for all, regardless of income.

The switch to telehealth services will also help stabilize the increasing healthcare costs. There is an increased reimbursement for remote care services offered by the U.S. Centers for Medicare & Medicaid Services (CMS), which will help ensure providers have the ability to set patients up with proper at-home treatment and monitoring systems. With low-cost options for patients and higher reimbursement opportunities for providers — telehealth is doing it all!

Telehealth Advantages for Practitioners
Despite strict requirements on medical credentialing for telehealth care, healthcare practitioners are quickly increasing their use of the innovative way of treating their patients through telehealth. Through the use of telemedicine, physicians are given the opportunity to reach more patients and develop stronger relationships with them through an easier means of communicating. In addition, physicians can save both money and time through this new method of treatment. Telehealth also allows for a better utilization of having multiple state licenses since practitioners will be able to connect with a wider demographic range of patients than only office visits can provide.  
One caveat to these advantages is that a physician needs to be licensed in a particular state in order to practice remotely there through telemedicine. For example, a Massachusetts-based physician can only consult patients in Massachusetts unless she is also medically licensed in other states. Keeping track of the different licenses can be a headache, but there are great tools out there, such as CE App, which can help practitioners easily manage their multiple licenses.    

Why are many hospitals now using telemedicine?
Telehealth is becoming an increasingly popular method for caring for patients with chronic conditions. These chronic conditions typically require many appointments to multiple doctors, which can become extremely costly for the patient. Utilizing telehealth care, however, can be a cost-saving option as well as a time saving,for both physicians and patients. Telehealth services are also useful for monitoring discharged patients and tracking patient recovery, which can often be very challenging. Tracking these patient outcomes is extremely important to further improve healthcare systems and care protocols — telehealth allows us to better achieve this.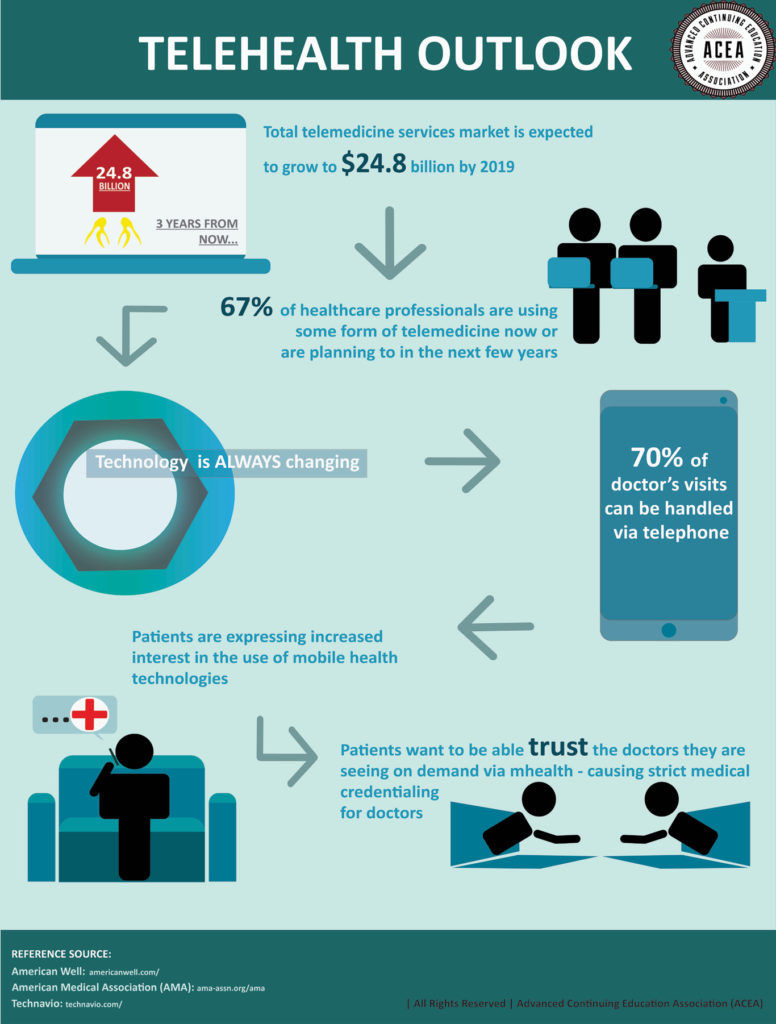 Administrators at Telemedicine Companies:
On an administrative level, incorporating telehealth into companies can open many opportunities for both providers and patients. Telemedicine is becoming increasingly popular for venture capitalists, and a new program could create increased revenue for healthcare offices. However, telehealth initiatives are not applicable for every office. Target customers would include physicians and clinical staff who experience difficult providing services for their patients, as well as patients who might have difficulty traveling to medical offices or need multiple consultations. Creating programs to benefit these target customers will help make providing ideal patient care much more flexible depending on the specific situations. Getting started with a new program might seem overwhelming, but luckily, there are many opportunities to help you out — including this telehealth grant program.
How to Become a Telehealth Specialist
For the tech-savvy physicians, the move toward adding telehealth to their workload will be a breeze. For others, there's plenty of resources to make the transition as painless as possible. Including multiple options when it comes to learning how to become a telehealth specialist:

A formal classroom training that is ATA accredited, check out these options: American Telemedicine Association, University of Arizona and University of California, Davis.

Self-study videos and materials, these are some great options: Telehealth 101 and 202 through University of Texas, California Telehealth Resource Center and Southwest Telehealth Resource Center.

Webinar options: Southern California Telemedicine Learning Center, American Telemedicine Association and Midwest Alliance for Health Education.
Amwell Opportunity
Learning about telemedicine in workshops is helpful, but having actual experience is another thing. Amwell's Online Care Group (OCG) is an online medical practice that connects providers with patients through live video visits. These visits can happen on your laptop, tablet or phone. The OCG's board-certified providers use American Well's telehealth platform to deliver immediate and efficient care at the highest quality and patient satisfaction. OCG providers serve as a unique medical community of its own, with its own sharing guidelines and discussion.
To join the Online Care Group, click here.
Telemedicine Outlook
Traditionally, medicine has been slow to adopt technologies (see: any of the many physicians still using pagers). With CE App, we are doing our part in supporting the initiative to providing better healthcare services, as we are striving to make continuing education a much simpler process for healthcare practitioners. This move to making medicine more efficient is important because in the US, our healthcare costs are rising faster than inflation.
Going forward, this could potentially be unsustainable for both patients, practitioners, and insurance providers alike. Many states now require reimbursements for telehealth services. This is a good for the future of telehealth, considering how effective it is from both a cost and care delivery perspective. As we move away from fee-for-service and toward bundled and global payments, it is important for everyone to be on the same page, innovation and technology wise, so as to provide the best, most efficient care.

The telehealth approach is growing in popularity among patients and providers, and will only continue to do so throughout 2019. And what's more exciting is the fact that, having an increased access to care and services while also minimizing the cost and time spent on office visits will help grow the telemedicine field while improving overall patient care in the process.