Top journals need to stay relevant. They can do that by giving their busy readers what they want: continuing education credits. There are numerous benefits to offering CE/CME credits with little effort by the journal. Highlighted below are the key benefits to adding a CE/CME program to your journal: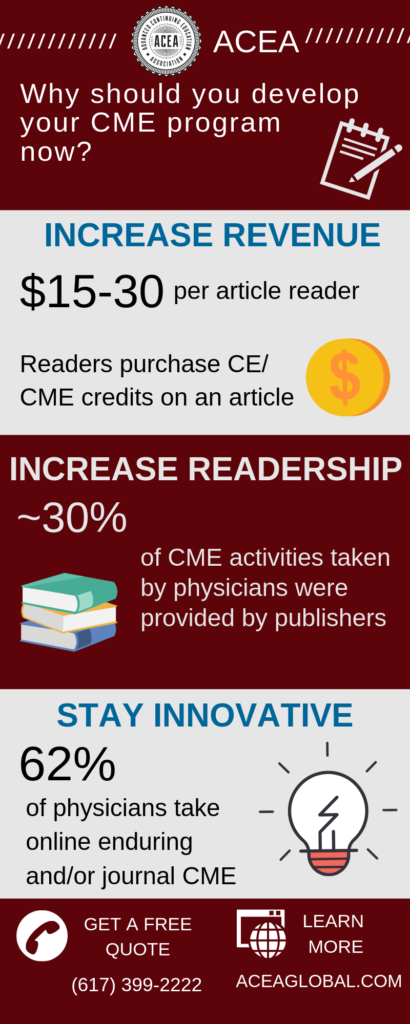 Increased Revenue
The business of scientific publishing is remarkably profitable, beyond purely subscriptions. By implementing CE/CME on articles with high readership, journals can expect a $15-30 increase in revenue per article download. With mandatory CE/CME requirements in each state, readers have an incentive to purchase your content.
Increase Readership
Did you know ~30% of CE/CME activities taken by physicians were provided by publishers? There is no better time to capitalize on this to become the leading source of CME/CE activities. Including CE/CME will increase the overall readership of your journal and ultimately result in increased customer satisfaction.
Stay Relevant
Embrace the future of technology by providing internet-enduring CE/CME for your readers. Currently, 13.5% of CME is internet enduring and journal CME! Through a CE/CME program, you will make content accessible for credit online, which will support the lifestyle of many physician readers. The opportunity to access high-quality articles through your journal online will bring cutting-edge innovation no matter where they are. Join the future of scientific publishing: ensure clinical competence and delivery of the highest quality care by physicians.